When did tanning become such a necessity?  The sun kissed look first became popular when Coco Chanel accidently got sunburnt when holidaying in the French Riviera in the 1920's.   When she arrived home with a golden tan fans around the world longed for that golden glow and society has been tanning ever since!  So with the summer months upon us most of us will be looking for any opportunity to immerse ourselves in the sun's rays!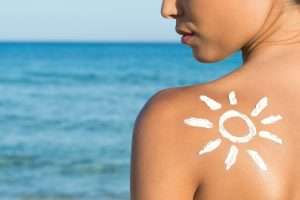 Unfortunately although a tan looks healthy too much sun can be very unhealthy for our skin, especially if we are susceptible to getting burnt!  U.V damage is the biggest cause of premature aging on the skin as well as pigmentation and other skin conditions.  Wearing the correct sun protection is key…below are some ways in which we can protect and preserve our skin and our youth…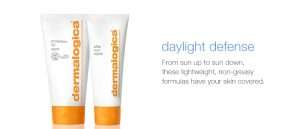 * Wear a high SPF (at least 30) even on days when there appears to be no sun
* Most sun creams which are above 30 are full of chemicals, fortunately Dermalogica have created Oleosome technology which allows them to lift the SPF to 50 without the chemicals.
* Check that your sunscreen is a Broad Spectrum sunscreen which will protect you from UVA and UVB rays
* Use an eye cream which contains a sunscreen
* In the sun wear UV protection sun glasses
* Use an after sun which repairs the skin as well as hydrating
* For those who are susceptible to pigmentation ask one of our therapists about our new PowerBright range
Summer Product Promotion
Free Daylight Defense Bag Trio with any SPF Product Purchase!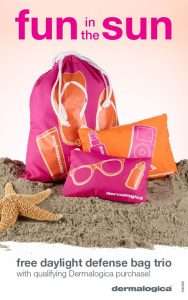 Whilst stocks last!