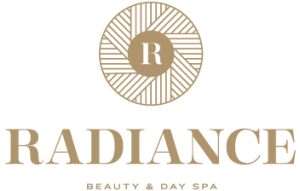 At Radiance we are excited to announce that we have launched our own medical grade skin care range.  This new range has some of the strongest and most advanced ingredients available in the skincare industry.  Christine has been working closely with a pharmaceutical company to blend together the best ingredients to create an affordable, advanced skin care range which our clients can use at home.  Our range does not only target current skin conditions, but provides the skin with the necessary active ingredients for prevention and  maintenance.
The Radiance product range contains some of the best scientifically proven ingredients such as glycolic and salicylic acids, but is also packed full of potent peptides and anti-oxidants which penetrate deeply into the skin to target all signs of ageing.  Within the range we have nine targeted products with something to suit every client's skin care needs.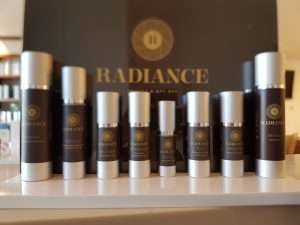 Radiance Skin Care Pricelist      
REVEAL (Glycolic wash)  £29.50 
Reveal cleanser is a foaming glycolic wash containing the natural clinically proven AHAs, glycolic and citric acid to gently remove the build-up of dead skin cells together with salicylic acid to remove impurities and excess oil. This combination will cleanse the skin and increase cell turnover revealing new younger looking cells while preparing the skin for the further application of recommended daily care.
PREPARE (Daily hot cloth cleanser) With muslin cloth £32
Formulated with natural skin calming properties and fragrant sweet orange oil to care for your skin whilst cleaning off dead skin and toxins. The anti ageing cleanser also contains jojoba oil which is clinically proven to have beneficial antioxidant and skin softening properties. The skin soothing natural ingredients are gentle enough to be used twice a day on all skin type, removing all traces of make up, debris and oil which can build up during the day.
PROTECT SPF 20   £38.50
Protect is an ultra skin nourishing and anti ageing moisturiser with a sun protection factor 20.  It provides all day protection and hydration. Harnessing peptides, to tighten and firm whilst diminishing the appearance of fine lines and wrinkles.  Protect contains skin loving antioxidants which encourage cell re-growth and regeneration.  Your skin will be thoroughly hydrated whilst looking firmer, fresher and tighter.
PROTECT SPF 50   £38.50
Formulated with natural mineral make up for a flawless appearance, our daily sun protection is designed to block harmful UVA and UVB to prevent skin ageing and reduce the damage caused by the sun's rays and the environment.
Protect 50 has been developed for daily use with the added benefits of the emollient Vitamin E and humectant Hyaluronic acid to keep the skin hydrated and supple throughout the day. packed full of antioxidants, vitamins and nutrients Protect 50 allows you to carry on with your busy day knowing your skin is getting all the protection and rejuvenation it needs.
REJUVENATE (Daily active serum)   £39
Our signature active serum contains the natural clinically prove AHA glycolic acid to gently remove the build up of dead skins cells. It increases cell turnover to reveal new, fresh, younger looking skin.
Rejuvenate is also effective for controlling breakouts, reducing pigmentation and fine lines.
HYDRATE (Hyaluronic acid serum)   £39
This ultra nourishing serum is perfect for dehydrated and ageing concerns, this contains hyalauronic acid which will attract moisture and bind it to the skin leaving it soft, supple, nourished and glowing.  This contains a cocktail of anti-ageing ingredients to reduce the appearance of lines and wrinkles, and prevent future signs of ageing.
C10 (Prof Strength Vit C serum)    £39
Our signature serum, professional grade Vitamin C neutralizes free radicals, defends against environmental damage and helps prevent premature signs of ageing.
Formulated with advanced antioxidant technology, this lightweight, fast absorbing serum is suitable for everyday use.  C-10 helps to reduce the appearance of fine lines and wrinkles and helps to stimulate collagen, it offers superior protection to prevent  future damage to the skin, lightens and brightens the skin for a more even skin tone.  C10 is suitable for all skin types or conditions.  Our c-10 serum uses advanced scientific and evidence based formulas, offering daily antioxidant protection. C-10 contains stabilised L-ascorbic acid – a form of vitamin C which is easily and quickly absorbed by the skin for the greater potency.
RECOVER (Healing active night cream)   £35
Our recover night cream provides some much needed extra care for your skin to help it repair and renew from the stresses of the day whilst you sleep. Our signature night cream has been specifically developed to rejuvenate through its antioxidant activity. Rehydrating your skin to allow over night recovery and reveal a softer more youthful appearance for the new day ahead.
REFINE (Intensive Eye Serum)  £37.70
Refine, is an intensive eye serum which actively works to rejuvenate and repair the signs of ageing.  Refine serum not only tightens and firms the peri-oscular skin but also has skin repairing properties that lighten and brighten the eye area.  Our professional strength Refine serum works to visibly reduce fine lines and dark circles leaving the eyes looking fresh and less tired.
Refine contains a unique blend of ingredients including vitamin e to hydrate, almond oil to repair and protect against the signs of ageing and lactic acid which has gentle resurfacing properties to diminish the appearance of crow's feet and visibly improve clarity and tone. Refine also has added natural silica to immediately help improve problem eye areas like crow's feet and eye bags helping you achieve results others will envy.
Offer- 3 products for £90
All our Radiance products are paraben free, not tested on animals and contain no animal by-products.
To find out more about our results driven skin care brand call into the salon and one of our dedicated skin care experts will be happy to help, or call us on 02890 600031.