Retinoids (derived from Retinol) is considered being among the most powerful (if not the most powerful) and effective anti-ageing ingredient available.  
At Radiance we are very excited to announce that Dermalogica have now created a revolutionary, overnight anti-ageing treatment which contains 0.5% retinol!  This ingredient in this percentage can treat and reverse environmental and genetic signs of ageing, as well as treating lines on the skin it also improves skin tone and increases skin firmness.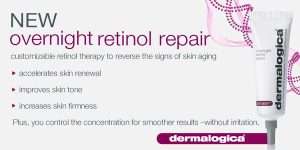 The unique key to this anti-ageing miracle is that Dermalogica have used microencapsulation technology to enhance the concentration levels to ensure maximum penetration of retinol into the skin.  
This groundbreaking anti-ageing product will treat all signs of ageing from crow's feet to smoker's lines!   
Radiance will be one of the first clinics to offer this anti-ageing system.  
To find out more about this night-time targeted treatment or to even book in for a free Face Mapping session feel free to ask one of our therapists or call the clinic on 02890 600031