The beauty industry is now, more than ever, networking with products and treatments from across the globe.
Massage is an area where we especially like to sample treatments from different cultures – we have Tai, Swedish, Indian Head and many more.  
At Radiance we are now offering the innovative Lava Shell massage treatment to enhance the already idyllic massage experience.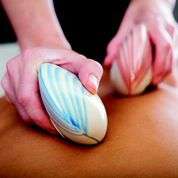 These natural tiger clam shells have been sourced from the Philippines and are the first self-heating tool available to the beauty industry.  
The heat allows the therapist to penetrate layers of tension more effectively with a thermal effect.  The treatment is carried out with exotic tropical oils which invigorate and relax the body and mind…
Lava shells also have many other benefits…
Removal of toxins from cells
Enhance blood flow
Ease stiff muscles
Relief of arthritic joints
Lava Shells have already have a big celebrity following…Richard Branson loves the treatment so much he offers it in his Bali Leha Spa in the Caribbean!
To find out more about this ultimate calming experience ask one of our therapists or call the salon on 02890 600031