With 4 weeks to go before Christmas, there is still time to make sure you look and feel fabulous this festive season. The main thing is to avoid last-minute panics when we all have enough to do!
Things we can do now to help us feel and look amazing this Christmas!
Have a Facial!
The body's natural processes can dull facial skin. Your skin constantly sloughs off dead cells. These cells can clog pores and give the skin an aged look. Daily exposure to the sun and other elements also take a toll on the skin.
Our Prescriptive Facial (£42) is both relaxing/pampering and as well as a way to improve the look of your skin. This revitalising facial is personalised by your therapist to suit your individual needs. It begins with a deep cleansing under steam, followed by gentle enzyme peel, to reveal smooth glowing skin. A face, neck and shoulder massage will ease the mind and spirit. A revitalising masque, followed by a nutrient rich moisturiser will hydrate, protect and help restore the natural balance of the skin. A personalised prescription follows.
Update Your Makeup Bag!
Christmas is all about cosy glamour, by adding colour, gloss and glitter. Think berry lips, richly toned eyeshadows, and silver and gold glitter liners.
If you don't want to use the colour all over your eyelid, wet an eyeliner brush and sweep onto the shadow and it will transform into an eyeliner."
Here at Radiance we stock Karaja makeup who have just brought out a new Autumn/Winter collection named the 'Jet Black' collection which contains essential smoky liners and shadows, berry and red glosses, glitter and purple toned nail polishes and beautiful bronzer which would be a great addition to your own makeup collection or a lovely gift to give!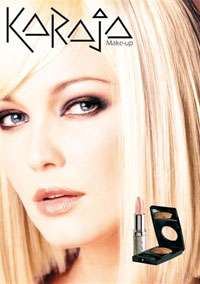 Get to Grips with False Lashes!
You should invest in a really good glue so that they always stay on securely! We sell the highly recommended Duo adhesive (£5)! The Ardell Demi Wispies £5.50 are one of our best selling pairs as these give just the right amount of volume and length and look so glamorous on!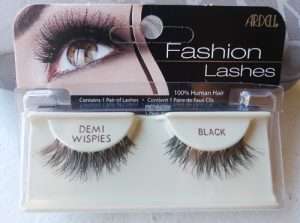 Here are our top 5 application tips:
1. Always trim the width of the lashes to fit your lid – if you don't, they will lift at the ends. Lay the lash across your lid before adding glue so you can determine the correct width and trim accordingly.
2. Apply the glue evenly along the base of the false lash – not too much and wait for it to go tacky- and sit the lash as close as you can to your lash line on the eyelid. Press into place.
3. Open the eye slightly as soon as you can so that glue doesn't transfer onto your bottom lids. Equally, don't open the eye completely as it will transfer onto the top lid.
4. When dry, go over the line with eyeliner. We don't recommend putting mascara on false lashes as they get a bit clumpy – put mascara on your own lashes beforehand.
5. To remove, support the skin of the eye and peel off gently. Remove old glue from the lashes and keep in the box for further use.
Get Waxed!
Make sure to time your waxing appointments well so that you are feeling fresh and ready for the party season! We have special offers on waxing within our Christmas promotions!
Have your Nails done!
Look glam all the time with perfectly prepped hands and toes! We recommend our new Autumn/Winter Gelish and Biosculpture colours which will have you looking on right on trend and super glamorous!
Indulge in some 'Me Time' with a Relaxing Massage!
We recommend our luxurious Full Body Winter Warmer massage with Hot Stone Therapy (£39) which is carried out using Ginger, Frankincense or Myrrh infused warming oil! Feel totally re-energized, de-stressed and ready for this festive season after this amazing treatment!
Finally we want to thank all you clients for your years of custom! At Radiance the client's happiness and satisfaction is of the utmost importance and we hope everyone leaves our salon feeling that extra bit special and glam!
We wish you all a very Merry Christmas and a wonderful New Year!