With Easter fast approaching; we are looking forward to brighter days and having a good Spring clean! Why not Spring clean our skin too?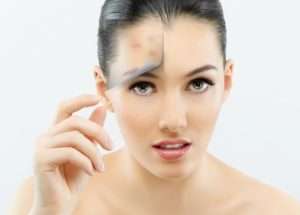 The importance of exfoliation and the reasons why is it paramount for optimum skin health.
Exfoliating your skin correctly will greatly improve the function of your skin and will help with all skin concerns.  
The benefits of exfoliation…
Speeds up our cell turnover, and allows new cells to come to the surface resulting in brighter, smoother skin.

Smoothes the appearance of fine lines

Removes build-up of dead skin cells on the skin allowing our other products to penetrate better into the epidermis

Removes debris from pores helping to clear breakouts & blackheads
It is imperative that we choose the right method of exfoliation depending on our skin type, a client with broken capillaries would be best using a fruit acid exfoliation as mechanical beads compromise the strength of the capillary wall, however a client with sun damaged, ageing skin would benefit from a strong physical and chemical exfoliant.
March is exfoliation month at Radiance Beauty & Day Spa!
We will be offering FREE Face Mapping at our Skin Bar to assess which exfoliation is best for you, as well as some exciting promotions.  
After just a week of using the right exfoliation you will notice the difference!
March Exfoliation Promotions
£10 OFF Dermalogica Bio-Surface Peel
10% OFF exfoliator products
Treatment of the Month – Radiance Intense Exfoliation Treatment
Power cleanse- cleanser powered up with enzyme powder to prep skin
Buffing brush- to kick start circulation and brighten skin
Physical exfoliation- tailored exfoliator to remove dead cells & debris from the skin
Chemical exfoliation- acid & enzyme based exfoliation to work deep into the epidermis
Tailored Dermalogica masque to work in harmony with your exfoliation
30 mins £29