(also known as Dracula Therapy £399)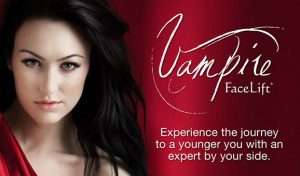 Radiance Beauty & day Spa is delighted to announce the introduction from the USA to Northern Ireland the futuristic and critically acclaimed treatment called the Vampire Facelift.
The ageing process causes the muscles and collagen in your face to decrease. This 'collapse' often makes a person's cheeks flat and their eyes hollow. The skin may also look dull and gray instead of showing the lively rose hue seen in youthful skin. The result is that a person may look worn, tired or droopy even when they feel rested and relaxed.
The Vampire Facelift® can bring back this youthful colour and volume. The entire treatment takes place in our spa, lasts about 30 minutes and is similar to other dermal filler injections. This new and innovative treatment, recently made famous by Kim Kardashian, uses the blood's natural resources to treat wrinkles, eliminate fine lines, stimulate fresh cells and restore your skins tone, clarity, and volume.
How does it Work? First the physician draws about 2 teaspoons of blood. Then, using a centrifuge, the physician isolates platelets from that blood. Then they 'activate' those platelets to cause the release from the platelets of at least 8 growth factors that would normally be used to heal injured tissue. These growth factors work like magic to cause increased collagen and new blood flow. To rejuvenate new skin, these growth factors then activate multi potent stem cells already in the skin. The multi potent stem cells then develop into new collagen, new blood vessels and new fatty tissue trying to 'repair' the skin.
The Vampire facelift is great for both women and men, and produces long lasting results, up to 15 months and is the next best thing to a facelift minus surgery.