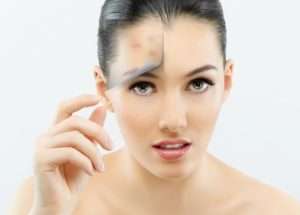 Under the surface of our skin lies a flawless, lineless and spotless complexion. The most effective way to get to this new, undamaged skin is via a skin peel.  
Skin peels have been a chosen method for thousands of years in the quest for youthful skin. Ancient Romans would exfoliate with grapes which contain tartaric acid, also Ancient Egyptians would use sour milk packed with lactic acid to rejuvenate their skin, good skin health has been sought after for many years.
At Radiance one of the very popular skin peels we have on offer is the Agera Peel.  
Agera is derived from the ancient Greek work agertos meaning 'not to age' or 'ageless'.  A team of chemists, physicians and biomedical scientists formulated this medical grade skin peel after ten years of advanced research .  These revolutionary peels are pain free, non-irritating and have little to no down-time.
What ingredients are found in the Agera Peel?
– Growth factor peptides help to restore the skins resilience and to control the skin's internal ageing process.
– Lactic acid this ingredient helps to heal the cell walls, promotes skin renewal and collagen production and well as helping to manage pigmentation.
– Salicylic acid helps to slough off dead skin cells, unclog the pores, is anti-inflammatory, smoothes the skin texture and is anti-inflammatory.
– Citric acid helps to correct uneven skin tone, treat all signs of ageing and leave your skin with a bright and glowing complexion.
After only one session your skin will be smoother, brighter and clearer; however we do recommend a course of 6 treatments spaced 2-4 weeks apart.
To find out more about this results driven treatment and our special offers; please call the clinic for a free consultation on 02890 600031.